Human Hair Wigs
Our undetectable lace front human hair wigs look, feel and behave as biological hair. Made with human hair only from the best sources, our wigs help you experience confidence and live life normally. Feel safe and understood by a consultant with their own hairloss experience.
Providing the world's highest quality human hair wigs
From her own experience with a lifetime of hair loss searching for quality products and quality service, Tammy Lobato ensures her clients are truly valued.
Our ongoing client relationships, quality of hair replacement products, and personal commitment to helping your hair loss, allows the best experience possible wearing wigs or toppers.
Consultations with our specialists are private, safe, respectful and compassionate.
Prices range between an average of $600 for a synthetic wig to an average of $3,500 for a human hair wig.
Who we help
Usually from alopecia, chemotherapy or genetic hair loss, the majority of clients who wear our human hair wigs have a total or very significant amount of hair loss.
Hair toppers are a popular choice for less severe hair loss.
Hair loss can be a traumatic and debilitating experience. Total hair loss from disease, or it's treatment, can often affect one's normality, without alternative hair.
Our human hair wigs help patients remain private about their journey, by concealing the reality of our disease or treatment. In turn this also allows us to focus on our return to normality.
Wearing scarves or wraps, while a good option for some, often alert others to what we are going through. Being asked if you are ok, or what type of disease you have, is a reality for many.
Human hair wigs help you say yes to lunch with friends, applying for that job, or being confident enough to go on a date.
The highest quality and most realistic wigs and toppers
100% natural remy human hair
Natural appearance
Undetectable lace front wigs
High standard comfort
Style with heat
View our Services for Hair Loss
Holistic Client Care & Compassion
We are a service based hair loss clinic.
We have;
Years of compassionate service and hairloss expertise
An expert understanding of patient needs stemming from personal experience
Successful track record of thousands of clients who've benefited from our many years of expert hair loss guidance
the very best solution to your individual hair loss
Rebuilt client confidence and the ability to function fully in daily life, and be their very best selves as a result of our realistic hair replacement
We know hair loss - professionally, as well as personally.
Why Tammy Lobato

Specialised service from 40 years experience
With 40 years of lived experience with alopecia – we understand, empathise and provide quality care

Female owned,
female run
Hair loss solutions for women and girls with alopecia, designed and provided for women by women.

Only the best quality wigs and hair pieces
Our human hair, synthetic and heat resistant wigs and fitting services are second to none

Private
and Personal
We provide boutique, private and personal consultations with your dignity and wellbeing a priority

Commitment to patient satisfaction
Our mission is to give you the best tools for you to regain and retain your confidence
View the difference hair replacement can make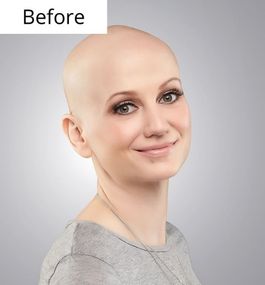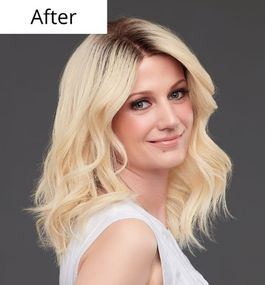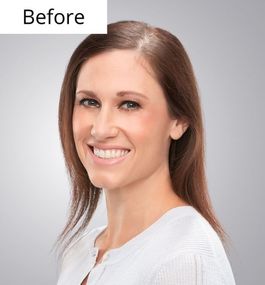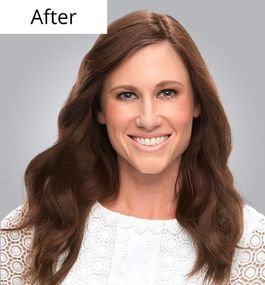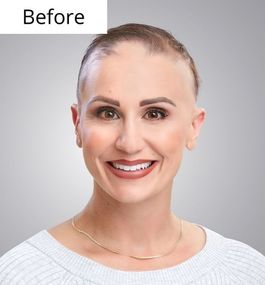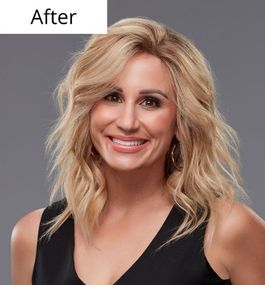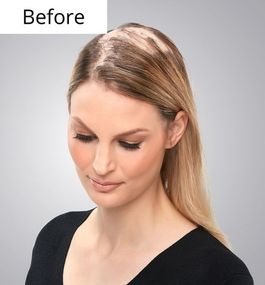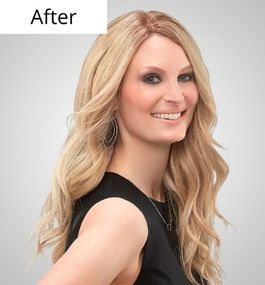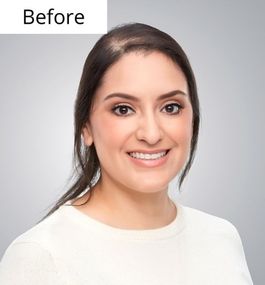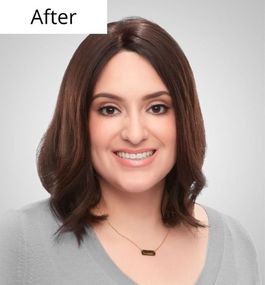 We consult with women going through radiation and chemotherapy, brain surgery, alopecia and a host of other causes of hair loss
We provide our clients with expert knowledge about the best solutions for their individual hair loss needs, that could be as a result of:
Total hair loss from chemotherapy
Advanced general thinning
Advanced Androgenetic Alopecia, Alopecia Areata/Totalis/ Universalis
Telogen Effluvium
Frontal Fibrosing Alopecia
Pattern Baldness
General genetic hair loss
Our Range
Our range of human hair wigs are made with:
100% Remy Human Hair
Lace front with light density to create the most natural look and movement
The highest quality stretchy hand tied caps
A variety of styles, colours and lengths from 6" to 22"
View our Range
What Our Clients Have to Say
I just wanted to say a huge "thank you" to Tammy for the empowering experience and exceptional support my husband and I received when attending her bespoke salon. Tammy is gentle, caring, understanding and has first hand experience, which are just a few of the traits that make her service exceptional. With great attention to detail, a great ear to listen to and facilitating a purchase within your budget. Tammy was able to help me find what was not only a gorgeous wig, but was able to help me feel better about myself and feeling more comfortable about wearing not just a wig, but my new hair. She ensured that I knew how to care for my wig to get the most out of it and is available for ongoing support…. I wouldn't go anywhere else and I would highly recommend to others to not go anywhere else either… Thanks Tammy xx
Kellie - Thank you note
What I thought was going to be a very emotional and perhaps teary experience turned out to be uplifting and empowering. After losing over half of my hair, husband and I visited Tammy to see what my options were. Tammy was very helpful with not only mine but my husbands 1000 questions, she listened to what I had in mind and ran with it with no judgment, but offing professional advice. The personalised and customised service was extremely impressive.
I strongly believe you get what you pay and in my opinion you can not skimp on something that has the potential to completely make or break your confidence.
Will definately be recommending and returning.
Thank you
Brit-toni - Thank you note
Thought we would share with you feedback from one of our clients who wears a Bonded Wig. Rachel has been wearing our wigs since she developed complete hairloss from Alopecia a few years ago. What she missed most was not being able to have hair on to go to bed, to shower and to swim. So we decided together that she would be a great candidate for a Bonded Wig - using medical grade adhesive to provide semi permanent hair that stays on 24 hours per day. We think Rachel is a bit happy about it
"I just wanted to let you know how happy I am with my hair bonding. I would highly suggest this to anybody in the same situation as me. I never thought I would get a sense of being back to my normal self with my hairloss but this has made that happen. The ability to sleep and shower in it without taking it off makes me fee like I just have my own hair back and has made me feel much more confident once again. Whoever thought I'd wake up with bed hair again haha or be able to stick it up in a 'mummy bun'. Please tell Elvira a huge thank you from me and thank you to you and Tammy Mc for working with me, listening to me and just being patient! All you ladies are superheroes."
Thank you Rachel for sharing this so that others learn about other options for their hairloss. We are so happy for you.
Rachel - Rachel's experience with Bonded Wigs
Brands we Work With